Navigation List
Contact Us
Changhong(Guangzhou) Environmental Protection Equipment Co.,Ltd.
Contact:
Tel:+86- 186-816-88830
Email:Sales@cnpressfilter.com

Website: www.cnpressfilter.com

Address:

Fenghuang industry park, Huadu district,Guangzhou,Guangdong,China



About Us
Changhong(Guangzhou) Environmental Protection Equipment Co.,Ltd. Is a leading professional equipment manufacturer for sewage / sludge treatment equipment. Our company has a powerful team for R & D, Manufacturing, marketing and installing of sewage / sludge treatment equipment.
The main products are belt press filter and other related equipments. Our company has most advanced technology for belt press filter equipment .The products of our company can be widely used as the following industries..:
1: Urban Waste water treatment
2: Chemical factory waste water treatment
3: Food industry such as coco meat dewater / Starch refine from Sweat potato, Tapioca, etc.
4: Mine industry
Our Main market is overseas market, and our product export to all over the world market such as Europe, Southeast Asia, east, North / South America etc. We have a strong support team, and can provide overseas after sales service which including training the employee for the customer, installing and testing the equipment.

Our company is located very close to Guangzhou airport, which is convenient for your visiting. We are looking forward to cooperate with you.
The Unique design for Nip Squeezing: which can dramatically improve the dewater efficiency.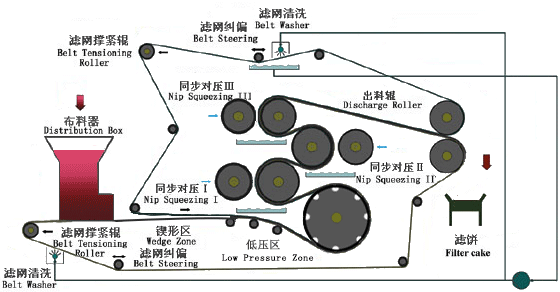 Our office and factory